Stuart Wilson, PGA Professional
Our philosophy is to make your golf experience as fun and enjoyable as possible. From a Coaching perspective we take everyone`s individual technique and work with it, making the improvements as simple and effective for that person`s ability and learning style.

As everyone`s swings are unique so too is the structure of our Lesson Packages where we endeavour to meet the needs of each individuals expectations.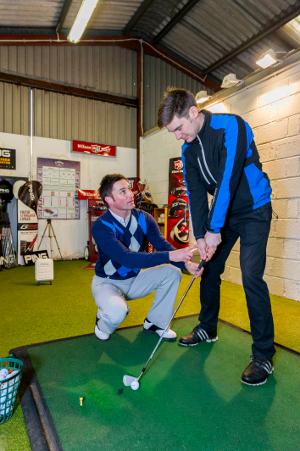 Tariffs:
Consultation: "Performance Analysis & Overview" (2 Hour Session) - £75
This session contains a detailed assessment of your game and your goals! Important performance data is recorded using Flightscope which alongside a comprehensive Skills Test and questionnaire allow a "Plan For Progress" to be created specifically for your game. *Anyone who takes this assessment automatically qualifies for a 10% Reduction on all future Lessons & Packages that season.

Playing Lesson: "Take It To The Course" (2 Hour Session) - £75*
This On Course Session focuses predominantly on your ability to manage your game and the course, mental approach, visualisation, routine, green reading, rules, etiquette and shot execution. Whilst how to play certain types of shots will be covered technique and swing changes will kept for on the Practice Range.

Scoring Zone: "The Ultimate Shortgame Session" (2 Hour Session) - £75*
The ideal way to make significant and lasting improvements to the one area of the game that guarantees lower scores! This session contains a detailed assessment of your Shortgame "Strengths & Weaknesses", a skills test, Computerized Putter & Stroke Analysis, Green Reading & Pace Control as well as an overview of Pitching & Bunker technique, Chipping method and shot choices.

Complete Game Package: "Top To Toe Improvement" (3x 45 Minute Session) - £105*
This Package focuses on every aspect of your game where you will be given analysis and advice on how to improve your Tee To Green Game (Session 1 - Long Game), your Approach Play (Session 2 - Shortgame) and your Putting Prowess (Session 3 - Putting)

Development Plan Package: "The Game Changer" (4x 45 Minute Session) - £140*
This Package is the ideal way to make simple, effective and long lasting improvements to your game. Whether it is focusing on one particular aspect or gaining knowledge and adding improvement to every department of your golf game.

Individual Lesson Prices

30 Minute Lesson - £30*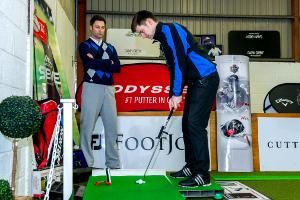 45 Minute Lesson - £35*
60 Minute Lesson - £40*

Group Tuition
2 People (1 Hour) - £30PP
3 People (1 Hour) - £20PP
4 People (1 Hour) - £15PP

Junior Tuition
30 Minute Lesson - £20
3 Lesson Package - £45

To book your lesson, click here
For Junior Group Tuition and other Junior Tuition options ask In Store or via my "Contact Me" link.